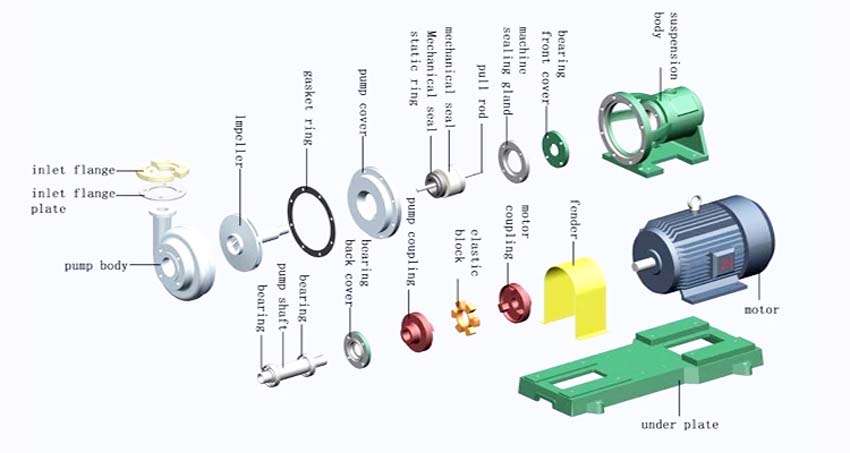 Introduction:
1. FSB strong acid alkali centrifugal pump anti resistant PTFE TEFLON chemical pump is reasonable design, compact structure, reliable performance, easy to use and saving energy.
2. Applied to convey strong acid, strong alkali, oxidant, corrosive medium (forbid to transit medium likely to crystallize) with physical property similar to water.
3. Wet parts are made of fluorine plastic alloy through reasonable design, mold pressing, machining, with advantages of strong corrosion resistance ability, high mechanical strength, non aging, no toxin decomposed.
4. It is widely used in the fields of chemical industry, petrol, medicine, pesticide, dye, smelting, paper making, plating, and food, etc.
Product details:
| | |
| --- | --- |
| Working Principle: | Centrifugal, full plastic pump head |
| Main applications: | Chemical |
| Driver: | Electric motor |
| Power Specs: | 220V, 240V, 380V, 400V, 415V, 440V, 50/60Hz |
| Max.permissible fluid temperature: | 100°C(212°F) |
| Type of connection: | Flange |
| Installation position: | Horizontal |
| Casing parts material: | PTFE, Teflon, UHMWPE, F46, F26 |
| Shaft seal type: | Mechanical seal |
| Maximum drive rating: | 75KW(100HP) |
| Maximum caliber: | 200mm(8inch) |
| Maximum discharge-side pressure: | 0.8MPa(8bar) |
| Maximum head: | 80m(262.4ft) |
| Flow rate range: | 1.5-400m3/h(6.6-1760US.GPM) |
Performance data:
Model
Capacity
(m3/h)
Head

(m)

Inlet

(mm)

Outlet

(mm)

Power

(KW)

Speed

(r/min)

Efficiency

(%)

25FSB-10L
1.5
10
25
20
2.2
2900
29
25FSB-18L
3.6
18
25
20
2.2
2900
27
40FSB-15L
10
15
40
32
3
2900
40
40FSB-20L
10
20
40
32
3
2900
42
40FSB-30L
10
30
40
32
3
2900
38
40FSB-40L
10
40
40
32
4
2900
35
40FSB-50L
10
50
40
32
5.5
2900
33
50FSB-20L
15
20
50
40
4
2900
51
50FSB-25L
15
25
50
40
4
2900
49
50FSB-30L
15
30
50
40
4
2900
44.5
50FSB-40L
15
40
50
32
5.5
2900
35
50FSB-50L
15
50
50
32
7.5
2900
33
65FSB-32L
29
32
65
50
5.5
2900
57
65FSB-40L
29
40
65
40
7.5
2900
53
65FSB-50L
29
50
65
40
11
2900
46
80FSB-20L
50
20
80
65
7.5
2900
69
80FSB-30L
50
30
80
65
7.5
2900
64
80FSB-34L
50
34
80
65
11
2900
64
80FSB-38L
50
38
80
50
11
2900
60
80FSB-50L
50
50
80
50
15
2900
53
80FSB-80L
50
80
80
50
22
2900
36
100FSB-32L
100
32
100
80
18.5
2900
70
100FSB-40L
100
40
100
80
22
2900
70
100FSB-50L
100
50
100
65
30
2900
62
125FSB-32L
200
32
125
80
30
2900
72
125FSB-50L
200
50
125
100
45
2900
64
150FSB-32L
200
32
150
100
30
1450
77
150FSB-50L
200
50
150
100
55
1450
75
200FSB-32L
400
32
200
150
55
1450
81
200FSB-50L
400
50
200
150
75
1450
79