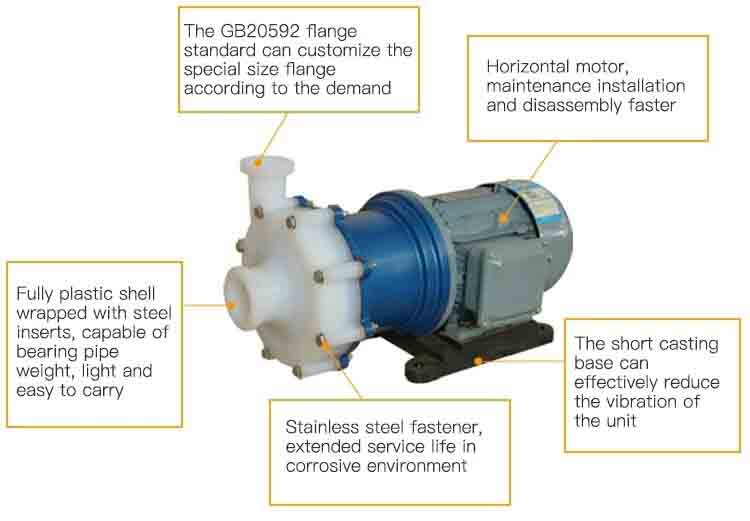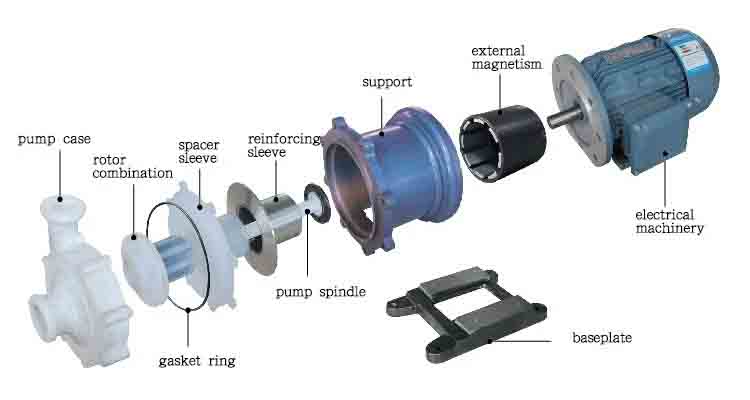 Product introduction:
1. CQB-F fluorine plastic lined centrifugal chemical magnetic pump is suit for all kinds of acid, alkali liquid delivery.
2. The magnetic pump's wet parts are made of FEP/PFA, it is with strong corrosion resistance, strong mechanical strength and it is without ageing and toxin decomposition.
3. This pump is special designed that it won't leak without mechanical axis and the material of flow passage component is fluorine plastic, ceramic and fluorine rubber. The pump case is fixed by metal material, which ensures the support of pipeline and makes the pump easy to maintain.
4. Widely used in petrochemical industry, acid/alkali plant, non-ferrous metal metallurgy, pickling in automobile manufacture, rare earth separation, pesticide / dye / medicine / papermaking industry, electroplate / radio industry, etc.
Product Details:
| | |
| --- | --- |
| Working Principle: | Centrifugal, Magnetic |
| Flowrate range: | 1.6~100m3/h |
| Head range: | 7~50m |
| Max.permissible fluid temperature: | 100°C(212°F) |
| Material: | Cast iron lined with FEP, PFA |
| Power specs: | 0.18~18.5kw / 110~480v / 50/60hz |
Parameter Table:
Model
Capacity
Head
Inlet
Outlet
NPSH
Motor Power
(m³/h)
 (m)
 (mm)
(mm)
 (m)
(KW)
CQB20-15-75F
1.6
7
20
15
6
0.18
CQB25-20-100F
2.5
10.5
25
20
6
0.37
CQB32-20-110F
5.5
13
32
20
5
0.55
CQB40-25-120F
6.3
15
40
25
5
0.75
CQB40-40-100F
6.3
11
40
40
5
0.55
CQB40-40-125F
6.3
17.5
40
40
3.7
1.1
CQB40-25-150F
6.3
25
40
25
3.5
1.5
CQB40-25-160F
6.3
32
40
25
3.5
3
CQB40-25-200F
6.3
50
40
25
3.5
5.5
CQB50-32-125F
12.5
20
50
32
3.5
2.2
CQB50-32-160F
12.5
32
50
32
3.5
4
CQB50-32-200F
12.5
50
50
32
3.5
7.5
CQB65-50-125F
25
20
65
50
4
4
CQB65-50-150F
20
25
65
50
4
4
CQB65-50-160F
17.5
32
65
50
4
4
CQB65-50-180F
18
38
65
50
4
5.5
CQB80-65-125F
50
20
80
65
4
7.5
CQB90-65-160F
50
32
80
65
4
11
CQB100-80-125F
100
20
100
80
4
11
CQB100-80-160F
100
32
100
80
4
18.5